New and Upgraded Formulation Aptamil® Gold+ HA Prosyneo Growing Up Formula
600g
Brought to you by Danone Nutricia, one of Europe's leading baby milk company, Aptamil Gold+ HA Prosyneo (From 1 year onwards) Growing-up Formula.
Product Benefits
Aptamil Gold+ HA Prosyneo (From 1 year onwards) contains:
Partially hydrolysed 100% whey Protein
A unique protein structure broken down into smaller pieces for sensitive babies who may require it
(Good bacteria) Probiotics, BBM-16V fights bad bacteria in your childs gut
(Food for Good bacteria) Prebiotic Blend, scGOS:lcFOS (9:1) promotes the growth of good bacteria and supports your childs natural defence
Contain a balanced combination of nutrients to support growth and development
Sucrose Free

Vitamin C & D contributes to the normal function of the immune system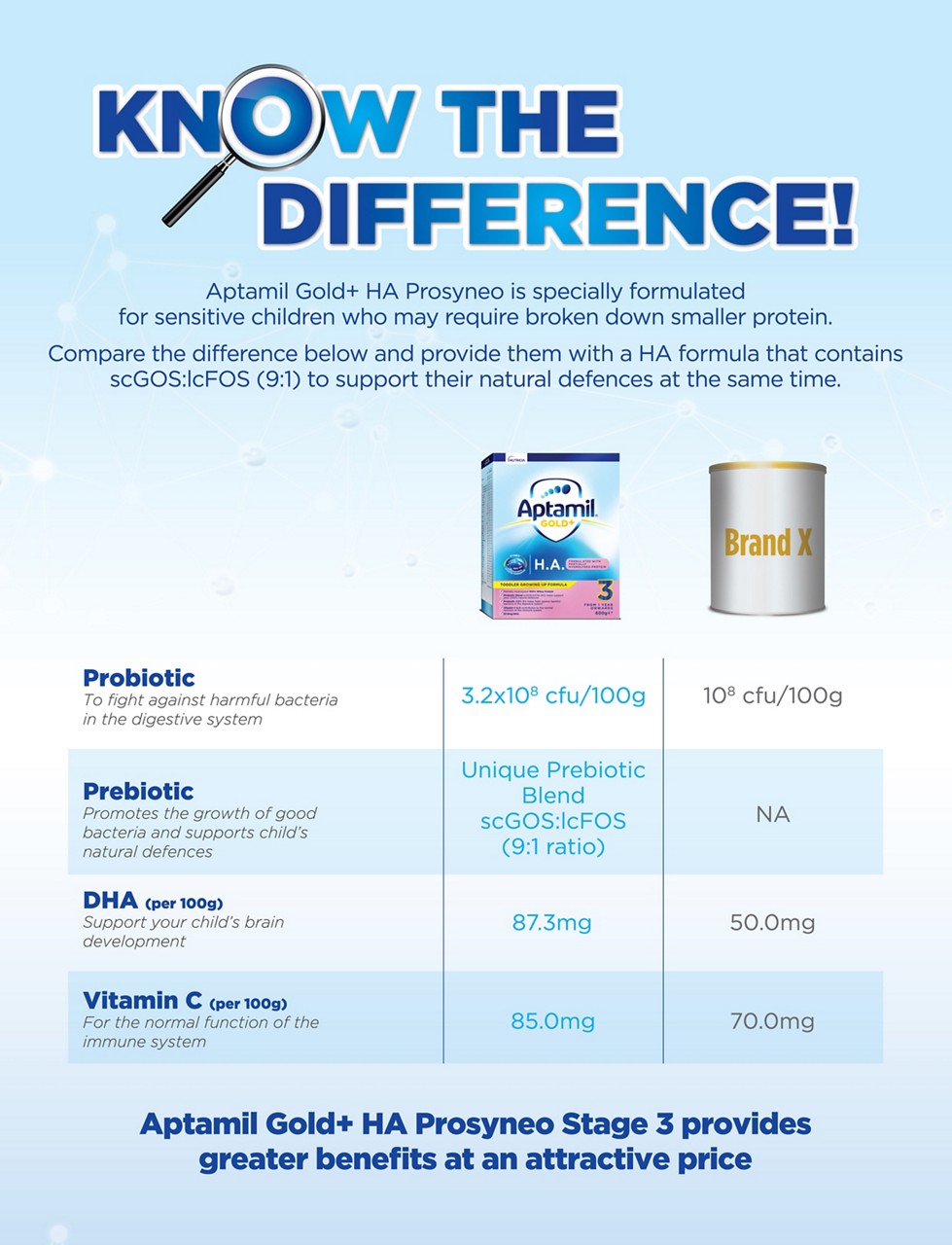 Nutrition Information
AVERAGE ANALYSIS

Per 100 g/Per serving

Energy(kcal)

457/37

Energy(kJ)

1920/576

Fat(g)

19.7/5.9

Docosahexaenoic acid, DHA(mg)

87.3/26.1

Alpha-Linolenic (Omega-3)(mg)

463/139

Protein (whey)(g)

10.6 3.1

Carbohydrate (g)

63.2/19

Lactose(g)

52.9/16

scGOS/lcFOS(g)

5.3/1.6

Dietary fibre(g)

3.7/1

Carnitine(mg)

5.2/1.6

Taurine(mg)

65.5/20

Vitamin A(I.U.)

1287 /386

Vitamin A (µg RE)

386/116

Vitamin D3 (I.U.)

252/76

Vitamin D3 (µg)

6.3/1.9

Vitamin E (I.U.)

10.6/3.3

Vitamin E (mg α-TE)

7.1/2.1

Vitamin K1 (µg)

33/9.9

Vitamin B1 (µg)

323/97

Vitamin B2 (µg)

1164/349

Niacin (mg)

3/0.9

Vitamin B6 (µg)

264/79

Folic acid (µg)

64/19

Pantothenic acid (mg)

2.2/0.7

Biotin (µg)

16/4.8

Inositol (mg)

22/7

Vitamin B12 (µg)

1.1/0.3

Choline (mg)

170/51

Vitamin C (mg)

85/26

Calcium (mg)

606/182

Phosphorus (mg)

310/93

Magnesium (mg)

34.6/10.4

Sodium (mg)

172/52

Potassium (mg)

512/153

Chloride (mg)

279/84

Iron (mg)

6.3/1.9

Zinc (mg)

2.6/0.8

Copper (µg)

181/54

Iodine (µg)

93/28

Selenium (µg)

6/1.8

Bifidobacterium breve M-16V (cfu)

3.2 x 10/ 9.6 x 10
Ingredients
Lactose, partially enzymatic hydrolysed whey protein, vegetable oil (palm oil, canola oil, coconut oil, high oleic sunflower oil, sunflower oil), galacto-oligosaccharide syrup (GOS), minerals (calcium dihydrogen phosphate, potassium dihydrogen phosphate, calcium chloride, calcium carbonate, trisodium citrate, potassium citrate, potassium chloride, ferrous sulphate, magnesium oxide, zinc sulphate, tricalcium diphosphate, copper sulphate, potassium iodide, sodium selenite ), fish oil (contains DHA), vitamins (choline bitartrate, L-ascorbic acid, sodium L-ascorbate, choline chloride, DL-alpha-tocopheryl acetate, myo-Inositol, nicotinamide, ascorbyl palmitate, calcium pantothenate, D-Biotin, riboflavin, retinyl acetate, DL-alpha-tocopherol, retinyl palmitate, pteroylmonoglutamic acid, thiamine hydrochloride, pyridoxine hydrochloride, phytomenadione, cholecalciferol, cyanocobalamin), polyfructose (long chain fructo-oligosaccharides, lcFOS), citric acid ester of mono and diglyceride, flavouring, arachidonic acid oil extract (ARA), taurine, citric acid, Bifidobacterium breve M-16V, L-carnitine, maltodextrin.
Information for food allergy: contains milk, soy product and fish oil 
Feeding guide
| Age | Cooled Boiled Water(ml) | Level scoops of powder* | Number of feeding per day |
| --- | --- | --- | --- |
| 1 year onwards | 180 | 5 | 3 |
*1 scoop = 6 g powder.
This feeding guide is a general guide only. Your child may need more or less than shown. This product should not be used during the first 12 months of life.
Preparation Instructions
For single serve of 200 ml, prepare 180 ml of warm water (40°C) as per feeding table.
Refer to feeding table, add 5 scoops (flat) of milk powder (for 180 ml).
Stir well until the milk powder dissolves
Storage Condition
Store product in a cool dry. Use by the date on box . After opening, keep in an airtight container and use contents within 3 weeks. Product is packed by weight, not volume. Some settling of the powder may occur during transportation and distribution.
Questions about feeding and nutrition?
Our midwives, nutritionists and feeding advisors are always on hand to talk about feeding your baby. So if you have a question, just get in touch.